WordLayer now available on iPhone
12 December 2011
-
So we're still two weeks away from Christmas but we have an early little gift for you...
Our app is finally out! Hooray!
After lots of work, (involving Tim practically living in the office, myself working from a cupboard and our app developer Ricardo not having a day off in months) WordLayer is finally available for download on the iPhone, complete with pronunciations!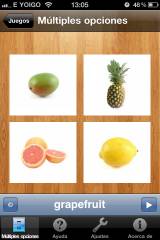 Languages
The app is currently in English, Russian, Spanish, Catalan and Italian but we are constantly adding new languages and more pronunciations so if the language you want to learn isn't there yet don't worry - we're working on it!
Coming soon, French, Dutch, German, Swedish, Portuguese, Danish and Japanese! "Japanese?!", you say, - That's right, even Japanese!
We are also trying to find a Chinese teacher to join our team too, although Chinese teachers in Barcelona are proving to be quite allusive!
Next version
The next updates for our app will include word symbols so you can know if your studying adjectives, nouns or verbs and also an improved word order in the study mode so you won't be shown a word twice in a row.
iPad and Android
The iPad app is also on it's way and will be out by the end of the year and the app will be available on Android phones by February. So soon everyone will be able to practice their vocabulary with WordLayer!